Return to Headlines
Cancer doesn't slow down Gov. Ivey
Article from The Clarke County Democrat
Thursday, September 26, 2019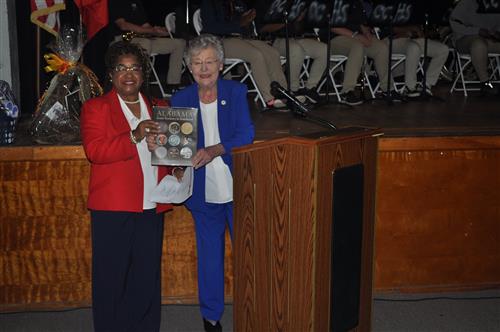 Gov. Kay Ivey announced last Thursday that her doctor had found a small spot on her lung that is cancerous. Friday, she was at the University of Alabama Medical Center in Birmingham to begin outpatient treatments.
When she made the announcement she said she was told the cancer was caught early and is treatable. She said it would not interfere with her work on her normal routine as governor.
Monday, she was back on the road for engagements and Tuesday she visited Clarke County High School in Grove Hill to recognize the school as an Alabama Bicentennial School.
She told the students that Alabama is working "more folks than any other time in this state's history." She credited education and a quality workforce for the achievement.
She spoke for less than five minutes but exhibited her usual enthusiasm and outgoing personality. She took the time to pose for photographs with area officials and students after her remarks.
In welcoming Ivey, Clarke County Superintendent of Education Larry Bagley thanked her for funding that will make a new career technical center a reality. The center, to teach vocational skills to high school students, will open next year.
Gov. Ivey flew into Jackson and drive to Grove Hill where she spent less than 30 minutes before heading to Linden for another school appearance. That afternoon she was in Monroeville.
Ivey did not address her health issues in Grove Hill and no one brought up the topic.
However, Monday, when asked by the Montgomery Advertiser, she said "I'm doing fine. I feel fine. I hope I look fine."
Continuing she said, "My spirit is fine. God is good. I have great doctors who assure me full recovery is very, very possible and that's what they expect and I do, too."
She concluded, "The doctors and I'll do our best, and God will do the rest."